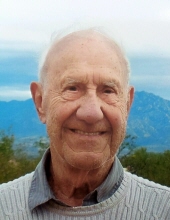 Linus J. Meisch, age 98, of Green Valley, Arizona and formerly of Woodbury, Minnesota, died peacefully on Friday evening, June 18, 2021.
Lin, as he was known, was born on May 31, 1923, in Miesville to Peter and Catherine (Ludwig) Meisch. As a young boy, he spent time in Hastings, Cannon Falls, and Miesville where his family owned the General Store, now the historic Kings Place. Linus graduated from Cannon Falls High School. He was drafted into service in WWll and proudly served in the Army Air Corps in the South Pacific. After his discharge, he used the GI bill to complete a bachelor of science degree in Civil Engineering at the University of Colorado, Boulder, where he met his future bride Mary Patricia Kane. They married on June 21, 1952 in Mary's hometown of Bloomington, Illinois. During the early years of his career, Lin and Mary lived in Colorado and New Mexico where Lin worked for the Bureau of Mines and the Army Corps of Engineers building roads and tunnels. As a young family, they moved back to West St. Paul where they raised their five children. Lin started his own firm, L J Meisch and Associates, where his work included structural designs for the first skyways in the twin cities, the Seattle World's Fair pavilion and the Ordway Center for the Performing Arts. Lin and Mary moved to Woodbury in 1992 prior to retiring in Arizona in 2010. Lin was a dedicated and loving husband, father, and grandfather. He enjoyed boating on the St. Croix and Mississippi rivers, traveling to the National Parks throughout the western United States, golfing, and hiking with his family. Two of his favorite spots were Afton State Park and Madera Canyon.
He was preceded in death by his parents; wife Mary; siblings Mary, Cletus, and Raphael; and son-in-law John Durant Jr.
Linus is survived by his children, Mary (Matt) Powell, Diane Durant, Peter (Susan) Meisch, Paul (Margaret) Meisch, and George Meisch; grandchildren, Kate (Evan), Anna, Eleanor, Bridget, John, Sarah (Savy), Patrick, Ryan, Cristina, and Charles; one great grandson, Emmett.
Mass of Christian Burial will be held at 10:30 a.m. on Saturday, June 26, 2021, at St. Joseph Catholic Church in Miesville, Minnesota, with Father Terry Beeson officiating. Interment will follow in the parish cemetery.
Family and friends are cordially invited to the Mass and a luncheon immediately following the graveside service at the church on Saturday.
In lieu of flowers, please consider a donation to the Friends of Madera Canyon at friendsofmaderacanyon.org.
Arrangements are being completed by Starkson Family Life Celebration Chapel of Hastings.