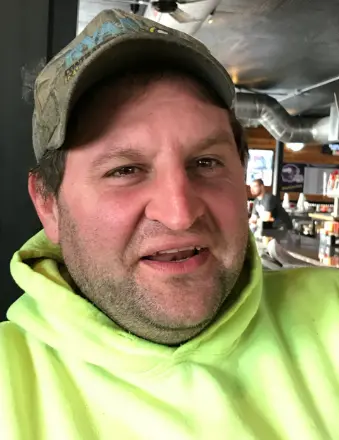 Brian James Olson passed away, peacefully yet unexpectedly, at his home on November 15, 2023.
He was born March 29, 1976, in South St. Paul, MN to James and LaDonna (McNamara) Olson. He resided in Hastings, MN and worked as a carpenter for most of his life. Brian lived life to the fullest - enjoying mud trucks, time on the river with family and friends, and downhill skiing. He especially loved spending time with his daughter Carlie, where the two shared a very unique and special bond. Brian was an avid Trump supporter. He was a devoted family member, friend, and person of faith.
Brian was preceded in death by his father, James Olson; grandparents, Aloysius & Edith McNamara, Earl & Mary Ellen Flynn, Walter & Mini Olson; step-grandparent, Hazel Olson; Godfather, Jack White; and other aunts, uncles and cousins.
Brian is survived by his daughter, Carlie Hoffman; step-daughter, Kara (Nicholas) Reich & grandson Luka; parents, LaDonna & Loren Flynn; sisters, Lynette Judge, Barbara (Randall) Peterson, Cheryl (Jarrod) Matsch and Loretta (Joseph) Karnes; and many nieces and nephews.
Brian's loss is going to be felt for a long time to come. He is with Our Lord and out of pain!
A Mass of Christian burial will be held at 11:00 A.M. on Wednesday, November 22, 2023 at St. Joseph's Catholic Church in Miesville, MN with a visitation being held at 9:30 A.M. Burial will be held at St. Elizabeth Ann Seton Church in Hastings, MN at 12:30 P.M. with a reception at Starkson Family Life Celebration Chapel following Mass in Miesville.
A visitation will be held at Starkson Family Life Celebration Chapel on Tuesday, November 21, 2023 from 3:30 P.M. to 7:30 P.M. at Starkson Family Life Celebration Chapel in Hastings, MN
Arrangements are being completed by Starkson Family Life Celebration Chapel of Hastings.