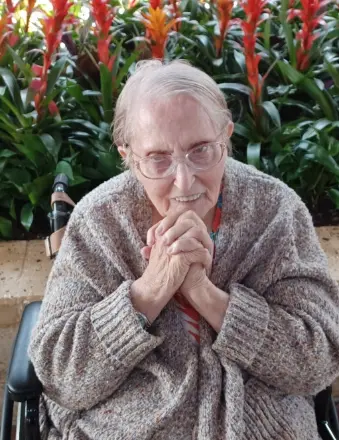 Helen A. Leifeld (Kaiser), age 90, passed away peacefully Tuesday, November 14, 2023, just 5 days short of her birthday in Rochester, Minnesota.
Helen was born on November 19, 1932 in to Grace and William Kaiser. She was united in marriage to Leo Joseph Leifeld on October 18, 1952 at St. Joseph's Church in Red Wing, Minnesota. Helen loved her family; reveling in her role as wife, mother, grand and great grandmother. She also cared for all of God's creation, specifically enjoying birds, hummingbirds, butterflies, flowers, cats and dogs. Above all, she loved the farm, her forever home.
Helen was preceded in death by her husband Leo; her infant daughter; her parents; daughter in law Becky Leifeld; an infant great-granddaughter Abigail; brothers Harry, Roy, Lyle, Jerry; and sister Mary.
She is survived by her children Eugene (Bonnie) Leifeld, David (Pat) Leifeld, Virginia (Doug) Palmer, Donald Leifeld, Michael Leifeld, Rita (Lauren) Laturnus, Patricia (Thomas) Niedzielski, Mary (Thomas) Siebenaler; James Leifeld; 16 grandchildren; and 19 great-grandchildren and 2 on the way.
A visitation will be held on Monday, November 20, 2023 from 4:00 p.m. to 7:00 p.m. at St. Joseph's Catholic Church in Miesville. A Mass of Christian Burial will be held at 11:00 a.m. on Tuesday, November 21, 2023 with a visitation starting at 9:30 a.m. at St. Joseph's Catholic Church. Burial will follow the service at St. Joseph's Catholic Cemetery with a reception following at the church.
The family would like to acknowledge the ICU unit at Mary Brigh 6th floor G wing at St. Mary's Hospital in Rochester. Your kindness and goodness with Helen have forever touched our hearts.
 Arrangements by Starkston Family Life Celebration Chapel.