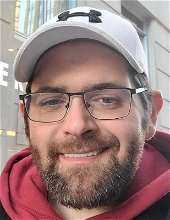 Michael R. "Mikey" Leifeld, age 36 of Minneapolis and formerly of Miesville, died on Friday, May 12, 2023, at home.
Michael Robert, the son of Michael and Brenda (Peterson) Leifeld, was born on March 24, 1987, in Cannon Falls. As a child, Mikey loved spending time on the farm, raising and showing cattle, and was a member of the Miesville Marigold 4H. While in high school, he was active with Riverside Choir where he truly enjoyed every minute of using his musical talent. Following his graduation from Hastings High School with the class of 2005, Mikey continued his education at North Dakota State where he pursued his dream of studying as a Voice Major. He also enjoyed being the Assistant Student Manager of Festival Music Hall. In his free time, Mikey also enjoyed snowmobiling, loved to fish, and was known to have a sense of humor and a smile that could light up a room.
He was preceded in death by his grandfathers, Robert Leifeld and Arthur Peterson; and his Uncle Tom Wald.
Michael is survived by his parents, Brenda Peterson Leifeld and Michael Leifeld; siblings, Amanda (Callum) Deeley and Matthew (Maria) Leifeld; grandmothers, Caroline Leifeld and Arlene Peterson; and by many aunts, uncles, cousins, other relatives, and friends.
Mass of Christian Burial will be held 11:00 a.m. Saturday, June 3, 2023, at St. Joseph Catholic Church in Miesville, with Father Joseph Connelly officiating. Interment will follow at the parish cemetery.
Family and friends are cordially invited to a visitation from 9:30 a.m. to 11:00 a.m., and to a reception immediately following the burial, all at church on Saturday, June 3.
Michael was a gentle spirit with a heart of gold. If you're struggling with an addiction, please know that help is always available.
In lieu of flowers, memorials are preferred in memory of Michael
Arrangements are being completed by Starkson Family Life Celebration Chapel of Hastings.