Joseph (Joe) Patrick Grinnell

Born April 13, 1967 in Monterey, CA, to parents Donald Prescott Grinnell of Arlington, MA, and Margaret (Peggy) Ann (McMahon) Grinnell of Wauwatosa, WI. On May 10, 2021, Joe was welcomed into the heavenly arms of his mother.

Preceded in death by his beloved mother, nephew Tyler James Grinnell, and treasured dogs Lady, Hershey, and Disco.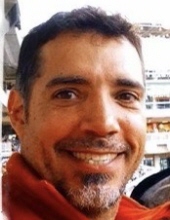 Survived by the love of his life, Renee Anderson and beloved dog, Cali Cool, father Don Grinnell, siblings Anthony, Mary Frances (Eric) Powers, and Kathleen (Ryan) Fisher, his dear nephews and nieces, uncles, aunts, cousins, extended family Felix Oramas, Jr., Louise Flanigan, Sherri Erickson, Tiffany Lazio, Shauna Flanigan, BriAnn Cano, and his many wonderful friends.

From the time he was a toddler, Joe was enamored of anything with wheels. Once he got his first little 'giraffey' training bike at 2, he was hooked and zipped around the neighborhood nonstop. As a young boy, Joe skateboarded and participated in BMX races. As a teenager he focused more on freestyle and doing the bike tricks. Throughout his adult years he rode cross-country, downhill, cyclocross, ice races, and more, competing and placing in regional and national competitions. Most recently he had started riding his One Wheel and on April 10, 2021 was in a Dirt Surferz Enduro Race in Eurkea Springs, AR and as usual ended up on the podium.
Joe loved to ride. Whether it be a technical single-track ride in the woods, a blistering downhill in full body protective gear, a 100-mile city day cruise, a 200 + mile trek in a blizzard, or just a quick ride to the convenience store for Ben & Jerry's, Joe would never turn down a ride. His bikes were almost an extension of his body and he probably felt better on a bike than anywhere else. For the rest of us, Joe was a thoughtful coach, riding companion, and bike technician, always wanting to share his love for riding, and always willing to give someone the tandem push.

Joe was a gifted athlete, with a natural grace and endurance we all envied. He excelled at any sport he tried. As a teenager he spontaneously took his dad's place in a running race and placed 1st in his division with no training. He was on the Alpine Ski Racing Team at Medford High School in Oregon and ran Cross-Country at Eden Prairie High School. In his 20's he even participated in open try outs for the Minnesota Twins. He did all of this without any real training, just his love of being active and trying new things. In addition to his bike racing for years, at 54 he was still pushing himself to ride farther and learn new tricks, doing things most 25-year old's can't do.
Joe also loved anything electronic. As a child he would disassemble watches and radios just to put them back together. If he wasn't working on his bikes, he was working on his stereo or video components. When computers became mainstream, Joe self-educated and became an expert. He found success as a Systems Engineer and loved delighting his clients with fun customizations. Again, for the rest of us, he was our In-House Tech Support and he loved being able to share his expertise to help his family and friends. His love of electronics was a natural springboard for Joe who in recent years delved into drone piloting and aerial photography & videography. Another self-educated pursuit, he shared his love of nature and adventure with the stunning images and videos he captured. Not overtly religious, but spiritual, Joe related with God through the beauty of nature and being outside. The artistic images he created allowed him to share his understanding of the divine.

Any kind of adventure was always fun with Joe. His excitement and joyful spirit were infectious. In addition to riding, Joe loved being on the water and shredding some rad wakes. Or stand-up canoeing down river rapids. Or hiking and exploring trails and parks with his cherished dogs. Or hanging out with dear friends and family, playing Catch Phrase or some other goofy game, or just talking. With his mega-watt smile, Joe brought fun and joy everywhere he went.
In addition to his sense of adventure, Joe had a gentle, loving soul, evidenced by his relationships with animals who were invariably drawn to him. The expression about dogs knowing a good person was never more so true than with Joe. Joe approached life with a dog's playfulness and capacity for love & loyalty. He loved all of his dogs fiercely.
Born and raised on the beaches of California, Joe moved to Minnesota as a teenager. He loved the beach, but embraced Minnesota and its beauty. Joe was on the water in the summers, snowboarding in the winters, and riding everywhere, no matter the season or weather.
Minnesota was where Joe met the love of his life, Renee. Friends in their 20's, Joe and Renee reconnected and fell in love in 2007. With their shared passions for the outdoors & nature, biking, snowboarding, boating & wake surfing, adventure, travel, music, good food, and the dogs, they were a natural fit and had 15 love and fun filled years together. Joe treasured their dogs and with Renee he found his central pack. Joe loved Renee's family as his own, especially her parents Jim & Kathy and loved spending time on their patio enjoying the beautiful views of the river bluffs and varied natural wonders. Renee and Joe built a beautiful life together.

Ever the generous spirit, Joe delighted in his hobby of surprising wait staff or baristas with obscene over-tipping. Especially around the holidays, Joe & Renee loved to leave $100+ tips on small tabs and hide to watch the recipients reactions. Joe found much joy in this anonymous but direct giving. We all plan to continue this tradition and hope you might consider doing so in Joe's honor.

Joe wanted to be remembered for his love for Renee and his family & friends, how much he loved helping anyone when he could, his love of riding his bikes or OneWheel & sharing that with everyone, and his love for his dogs.

A private, family service is to be held at St Joseph's Catholic Church in Meisville, MN. A Celebration of Life for extended friends and family will be held at a later date to be announced.

In lieu of flowers, memorials to animal rescue organization The Rescue Crew (Rescuecrew.org), Free Bikes for Kids (fb4k.org), Cuyuna Lakes Mountain Bike Crew (cuyunalakesmtb.org), Minnesota Off-Road Cyclists (morcmtb.org), the National Alliance on Mental Illness (namimn.org), or donor's choice are preferred.

To Joe, our beloved son, brother, uncle, and best friend, may you rest in peace. You will be missed beyond measure.

You will always be super rad.

Arrangements are being completed by Starkson Family Life Celebration Chapel of Hastings.
To plant a beautiful memorial tree in memory of Joseph P. "Joe" Grinnell, please visit our
Tribute Store.