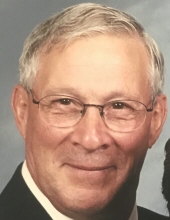 On the sunny morning of March 8, 2021, James "Jim" Weber, age 85, passed away peacefully in his home. Jim was born on June 8th, 1935 in Hastings to John and Jeanette Weber. He grew up with his siblings on their farm in Miesville, MN. Jim and his twin brother, Jack were decorated wrestlers while in high school. After graduation, Jim enlisted in the Army as a clerk. He traveled Europe while in the service and returned home to be a full-time carpenter and farmer.

In 1957, he married Viola Peine and they had four wonderful children. Jim and Vi raised their children on their farm in Miesville, MN. Jim enjoyed traveling out west to hunt antelope and elk. After losing Vi to a brain tumor, Jim reunited with a high school classmate Janice Baldwin and the two married in 2000. Jim and Jan enjoyed their retired years in Hastings and traveling to Lake Havasu. Jim's life was full of wonderful memories with his family. He enjoyed spending time with his grandchildren and great grandchildren watching them grow. Family was always the most important to Jim. Jim was able to spend his last days surrounded by his family.

Jim was preceded in death by his parents; beloved wife, Viola; brothers, Bernard Weber and Jerry Weber; sister, Alberta Horsch; and twin brother, John "Jack" Weber. He is survived by his loving wife, Jan; sisters, Ann McGree and Harriet Weiderholt; sisters in law, Marion and Marlys Weber; children, Kim (Dennis) Main, Kevin (Maureen) Weber, Dean (Kim) Weber, Rodney (Molly) Weber, Bryce (Jean) Baldwin, Bill (Anita) Baldwin; grandchildren, Wendy, Jeremy, Michael, Adam, James, Nicole, Laura Rose, Justin, Brooke, Rachel, Matthew, Angie and Justin and many great-grandchildren.

A Mass of Christian Burial will be held on Friday, March 12, 2021 at 2:00 PM at St. Joseph's Catholic Church in Miesville. A visitation will be held on Thursday, March 11, 2021 from 4:00-8:00 PM at church in Miesville and one hour prior to mass on Friday. Interment, St. Joseph's Catholic Cemetery in Miesville.