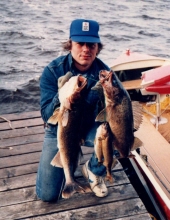 Mark F. Capesius, age 75 of Hastings, died peacefully on Thursday evening, June 4, 2020, with his wife at his bedside. Mark battled glioblastoma, a form of brain cancer, for eight months.
Mark Franklin, the son of Edmund and Caroline (Kipfer) Capesius, was born on July 16, 1944, in Emmetsburg, Iowa. Following his graduation from Algona High School with the class of 1962, Mark was drafted into the United States Army where he was stationed at Fort Detrick, Maryland, as an Army Medic. Following his honorable discharge, he was united in marriage to Dianne White on April 18, 1970, in Hibbing, Minnesota. Mark was a longtime employee of Northwest Airlines and retired in 2007 after forty-three years of service. Mark enjoyed working on his hobby farm, hunting, fishing, his four horses and two rat terriers. Most of all, he was proud of his gardens and the fresh vegetables, especially his sweet corn and potatoes, that he sold at their vegetable stand. Rest In Peace boo, see you on the other side. Forever missed, never forgotten. Heaven has acquired a caring and gentle soul.
He was preceded in death by his parents.
Mark is survived by his wife of fifty-years, Dianne "Dee"; daughter, Ashley; brother, Chuck (Betty) Capesius; sisters, Rachel (Jim) Malone, Colette Hunsucker, and Gwen (Jeff) Casperson; and many other relatives and friends.
A Mass of Christian Burial will be held at a later date. Please continue to check the obituary on the funeral home's website for updated information.
Arrangements are being completed by Starkson Family Life Celebration Chapel of Hastings.