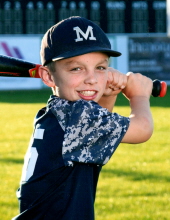 Tegan P. Johnson, age 12 of Hastings, the oldest son of Chad and Tracey Johnson, passed away peacefully surrounded by his loving family on Tuesday morning, January 14, 2020, at Gillette Children's Hospital in St. Paul, following a recent skiing accident.
Tegan Paul the son of Chad and Tracey (Niebur) Johnson, was born on March 14, 2007, in Minneapolis. Tegan attended grade school at St. John the Baptist Catholic School in Vermillion as well as Pinecrest Elementary, and was currently enrolled as a seventh grader at Hastings Middle School. Tegan loved life and simply lived it to the fullest. He enjoyed racing dirt bikes, playing baseball in Miesville, hanging out with his friends, watching movies, collecting various things from the outdoors, water skiing and downhill skiing. Tegan especially enjoyed pheasant hunting with his dad and grandpa in South Dakota, spending time at the family cabin up north, and dirt biking with his brothers and friends. Most of all, Tegan truly loved the time spent with family and cherished the many traditions they established.
He was preceded in death by his grandpa, Ronald "Ron" Johnson.
Tegan is survived by his loving parents, Chad and Tracey Johnson; brothers and best friends, Brecken and Emmett; grandparents, Paul and Susan Niebur and Linda Johnson; aunts and uncles, Todd and Kelley Johnson, Jaime and Jason Youngquist, and Rodney and Jessy Niebur; his cousins whom he loved dearly, Alex Johnson, Alissa Johnson, Drue Niebur, Leo Youngquist, Addy Youngquist, McKenna Youngquist, and Emma Johnson; and by many other dear family members and friends.
Mass of Christian Burial will be held 11:00 a.m. Saturday, January 18, 2020, at St. Joseph Catholic Church in Miesville, with Father Terry Beeson officiating. Private family interment will take place at the parish cemetery.
Family and fiends are cordially invited to a visitation from 3:00 to 8:00 p.m. Friday evening at Starkson Family Life Celebration Chapel of Hastings. There will not be a visitation on Saturday morning.
In lieu of flowers, Tegan's family kindly requests memorials be made to the Tegan Johnson Memorial Fund at Vermillion State Bank.
Arrangements are being completed by Starkson Family Life Celebration Chapel of Hastings.