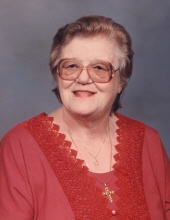 Edith M. Paradis, age 90 of Hampton, died peacefully at home on Thursday afternoon, February 13, 2020.

Edith Mabel, the daughter of Raymond and Nellie Giddings, was born on June 25, 1929, in Springfield, Vermont. Following her graduation from high school, she was united in marriage to Ronald Paradis in 1947. They were blessed with four children and many wonderful memories prior to his passing. Edith was a dedicated homemaker, and was always willing to help in any way she could.

She was preceded by her parents; husband, Ronald; daughter, Mary; and by daughters-in-law, Sandy and Pawn.

Edith is survived by her children, Richard Paradis, Bill Paradis, and John Wesley (Anne) Paradis; special grandson, Jonathan and many other grandchildren and great grandchildren; the extended Bourbeau Family; brother, Henry Giddings; and by other relatives and friends.

A private Mass of Christian Burial will be held at St. Joseph Catholic Church in Miesville. Interment will be held at the parish cemetery.

Arrangements are being completed by Starkson Family Life Celebration Chapel of Hastings.
To send flowers to the family of Edith M. Paradis, please visit Tribute Store.