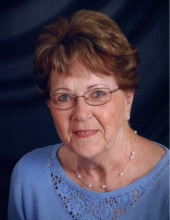 Irma T. Freiermuth, age 91 of Hastings, died peacefully following an extended illness on Sunday afternoon, March 26, 2023.
Irma Theresa Schiller, the daughter of Anton and Josephine (Ludwig) Schiller, was born November 29, 1931, in Castle Rock Township, Minnesota. She attended both Hampton and Farmington schools, and worked on the family farm until her marriage to Robert W. Freiermuth on November 25, 1948. Irma was a fulltime homemaker. In addition, she was a top-notch bookkeeper and office manager for her husband Bob and son Bob Jr.'s business for over 55 years.
Irma's passion was to nurture and care for all she loved. Her husband, children, grandchildren, and great grandchildren were her heart's center.
Irma was a hard worker; idleness was not in her DNA. She loved the outdoors, tending her flower gardens that attracted the country wildlife, mowing the yard, washing cars and trucks, golfing, traveling, and basically doing anything to be outside. She also loved playing cards and games with family and friends every chance she could get. Hosting holiday gatherings with family and making an over abundance of delicious food was especially mom's pride and joy.
Irma and Bob spent many days with family and friends between their homes in Arizona, their Wisconsin cabin and here in Hastings, as well as many travels.
She was preceded in death by her parents; husband, Bob; and brother, Maynard Schiller.
Irma is survived by her children, Bob Jr. (Dianne Kreiger) Freiermuth, Linda (Wesley) Ask, Sandy (Alan) Blankenship, Luann (Ben) Tims and Susan (Paul) Beskau; 16 grandchildren and 29 great grandchildren; brother, Jerry (Rosemary) Schiller; sisters-in-law, Dolores Schiller, MaryAnn Otto and Rosalie (Gerald) Rother; and by many other relatives and friends.
Family and friends are cordially invited to a Celebration of Irma's Life from 9:00 to 11:00 a.m. Monday, April 3, 2023, at Starkson Family Life Celebration Chapel of Hastings, with a service to follow. Private family interment will be held at St. Mary's Catholic Cemetery in New Trier.
In lieu of flowers, Irma's family requests memorials be given to Grace Hospice in her memory.
Arrangements are being completed by Starkson Family Life Celebration Chapel of Hastings.