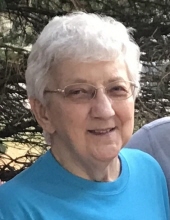 Irma Theresa Hammerschmidt Carlson, age 82 of Hastings, MN, passed away peacefully at home surrounded by family on Thursday morning, June 23, 2022.

She was preceded in death by parents, Max and Eva (Weitzel) Hammerschmidt; siblings, Clea Dalton, Rita Sandkamp, Anna Holmstrom Flaherty, Joseph Hammerschmidt, Raymond Hammerschmidt, and Mathew Hammerschmidt; son, Glen Carlson; and by her grandson, Richard Rose.

She is survived by her husband Richard Carlson; children, Theresa (Jon) Eclov, Jim (Michele) Carlson, Dave Carlson, Eric (Amy) Carlson, Barb (Don) Musch, Maxine (Chris) Rose, and Rick (Deb) Carlson; daughter-in-law, Heather Carlson; 21 grandchildren and 11 great-grandchildren; and by many other relatives and friends.

Irma grew up in a big, loving family in Cottage Grove, MN. She attended St. Thomas Aquinas Catholic School and St. Paul Park High School. In high school she enjoyed National Honor Society, FHA, the class play, and History Club. She graduated as Valedictorian from St. Paul Park High School in 1958. Following a blind double date with her sister in 1956, Irma started walking out with Richard Carlson, the love of her life. Her senior yearbook prophecy stated that "Irma Hammerschmidt finally got tired of her long name so she legally had it changed to Carlson." Irma and Dick married on June 27, 1959. After graduating Irma worked for Erickson Oil Company and 3M in Cottage Grove. Irma and Dick raised their 8 children in Miesville, and rural Hastings in the house they built. Irma enjoyed sewing, reading, and bird-watching. Her joys were her children and grandchildren. She never learned how to swim, but she made sure all the kids had swimming lessons. Irma always made her home welcoming to the many family and friends who stopped by ALL THE TIME. The coffee was always hot and there were cookies in the cookie jar. As a blacksmith's wife, Irma was an integral part of the Guild of Metalsmith's support system, taking care of food and planning at events and conferences.

She will be missed by so many. She was a caring and loving person and we will always be grateful for how she enriched our lives.

Mass of Christian Burial will be held 10:30 a.m. Thursday, June 30, 2022, at St. Joseph's Catholic Church in Miesville, with Father Terry Beeson officiating. Interment will follow at the parish cemetery.

Family and friends are cordially invited to a visitation from 4:00 to 7:00 p.m. Wednesday evening, and for one hour prior to Mass at church on Thursday morning, all at church.

In lieu of flowers, memorials are preferred to St. Joseph Catholic Church in Miesville, Hastings Family Service, or the donor's choice in memory of Irma.

Arrangements are being completed by Starkson Family Life Celebration Chapel of Hastings.