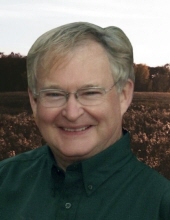 Michael "Mike" McGrath, age 75 of Hastings, died peacefully at home surrounded by his loving family on Friday morning, April 1, 2022.
Michael James, the son of Dennis and Helen (Gessner) McGrath, was born on August 1, 1946, in Hastings. Following his graduation from Hastings High School with the class of 1964, Mike was united in marriage to Kathleen "Kay" Bauer on October 9, 1965, at Church of St. Joseph Catholic Church in Miesville. Mike was a longtime ironworker with Local 512 and was able to participate in many large projects including: IDS Tower, Norwest Bank, and the Metrodome prior to his retirement following twenty five years of employment. However, Mike's true passion was farming until his health no longer allowed him to following his last harvest in 2021. Mike's legacy of being a hard worker will be carried out through his sons as they continue farming the land their dad loved. Outside of work and farming, he enjoyed spending time with his grandchildren, stock car racing in his younger years, deer hunting, and simply enjoyed being outdoors no matter what the weather was. He was an avid Nascar fan and a longtime member of Church of St. Joseph in Miesville.
He was preceded in death by his parents; nephew, Kody McGrath; sister-in-law, Cindy Hood; and by his brothers-in-law, Steve Swanson and Fred Bauer.
Michael is survived by his wife, Kay; children, Jaci (Brian) Tuin of Hastings, Dennis McGrath (Angela Leonard) of Red Wing, and Brent (Kelly) McGrath of Welch; grandchildren, Garrett Tuin, Scotty Tuin, Logan McGrath, Megan McGrath, Colton McGrath, Sebastian McGrath, Ava McGrath, and Dylan McGrath; twelve siblings, Jim "Matty" (Daria) McGrath of Rapid City, South Dakota, Julie (Bob) Wellman of Spokane, Washington, Mary Pat (Dan) Dobrick of Hastings, Geri (Ed) Nutzmann of Sandstone, Genevieve (Connie) McGrath of Boise, Idaho, Janet Swanson of Hastings, Linda (Steve) Carlson of Prescott, Joe (Brenda) McGrath of Etter, John (Karin) McGrath of Chugiak, Alaska, Dan (Anne) McGrath of Red Wing, Ann McGrath of Hastings, and Willie (Diane) McGrath of Hastings; the extended Bauer Family; and by many nieces, nephews, other relatives and friends.
Mass of Christian Burial will be held 11:00 a.m. Monday, April 11, 2022, at Church of St. Joseph in Miesville, with Father James Notebaart officiating. Interment will follow at the parish cemetery.
Family and friends are cordially invited to a visitation from 3:00 to 7:00 p.m. Sunday, and also for one hour prior to Mass on Monday, all at church.
Mike's family would like to especially thank Mayo Clinic Hospice of Red Wing for their love and care they provided to Mike and his family during the last three weeks.
In lieu of flowers, memorials are preferred to Mayo Clinic Hospice ~ Red Wing, American Cancer Society, or to the donor's choice in Mike's memory.
Arrangements are being completed by Starkson Family Life Celebration Chapel of Hastings.